Recent Job in Historic District of Riverside
Few months ago we replaced a roof on a beautiful home built in the 40's. Situated in a beautiful neighborhood, Riverside, it gave us incredible river views from the roof! But because it's in the historic district, we had to apply for a special permit: the Certificate of Appropriateness, required anytime you are making alterations to a home located in a historic district.
When you want the ultimate protection and impressive curb appeal, you'll want 
Duration®Shingles from Owens Corning
. They are specially formulated on a TruDefinition®color platform that gives them dramatic color contrast and dimension in a wide range of popular colors. We picked Desert Tan with the home owner.
Beyond the great look, Duration®Shingles also come with the advanced performance of patented SureNail®Technology—with Triple Layer Protection®in the nailing zone for superior holding power. We proved it in testing.
When we need strong, durable underlayment, we use Owens Corning®ProArmor®Synthetic Roof Underlaymentwith Fusion Back Coating Technology™. It repels water unlike #15 felt. It's also light, easy to install and contributes to safe working conditions.
Dual-surface slip resistance: Fusion Back Coating Technology™paired with a non-woven surface provides excellent walking conditions during shingle application even on steeply pitched roofs
Repels moisture and helps provide protection against water infiltration
Resists stretching and tearing around fasteners
ProArmor®Synthetic Roof Underlayment is part of the Owens Corning®Total Protection Roofing System®
Additionally, we installed WeatherLock®Mat Self-Sealing Ice & Water Barrier peel and stick  is designed to act as an additional line of protection against damage due to shingle blow-offs, wind-driven and rain.
Attention to detail matters. That is why we used ProEdge®Hip & Ridge Shingles to provide a clean and consistent look. They surely enhanced aesthetics and added distinction to the roof line. What our team also likes about them is that they are perforated for easy separation. No additional on-site cutting required and the pre-applied continuous sealant bead aids in quick adhesion. Additional benefit for the homeowner: they are algae resistant!
The challenge on this particular project was that our team actually replaced three different roofs on this property: the main roof including the wrap around porch, the carport roof, and the roof on the guest house/cottage.
Additionally, the roof on the wrap around porch had a leak near the wall, so we replaced all the wall flashing on the porch. To do this, we had to remove the existing siding, and then install counter flashing over top the new one.
 The main roof had three chimneys, and we replaced the flashing with L-flashing and aluminum counter flashing on all of them. L shaped flashing is a versatile, general use flashing used where a uniform or strengthened finish is needed on a 90° surface. Made with 28-Gauge galvanized steel, L-Flashing can play an essential part in protecting your home against water damage.
Before photo: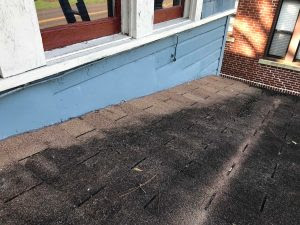 The carport and cottage had exposed soffits, so we had to use 1" nails instead of the standard 1-1/4" around the perimeter, so that the nails wouldn't shoot through the exposed wood. The materials for the carport roof and cottage roof could not be loaded on the roof by the supply truck since they were out of reach, so they had to be dropped on the ground and The Prime Roofing team loaded them by hand. We used the Equipter, which is our mobile dump machine, to help us by loading the materials in there and raising it up to the level of the roof so we wouldn't have to walk them up the ladder.
The job went very well. The house looks even more beautiful now and will be protected from harsh sun and winds for years to come!